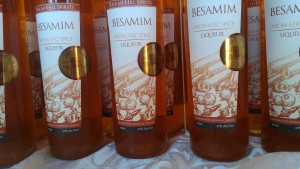 Sukkah Hill Besamim Liqueur is a wonderful aromatic warm spice liqueur. Here's what the Beverage Testing Institute had to say when they gave it a gold medal:
Pale amber color. Vibrant aromas and flavors of cinnamon, nutmeg, and clove are reminiscent of fresh spicy eggnog with a silky, moderately sweet medium body and an gently warming frosted carrot cake and candied spiced nut finish. Elegant, natural and balanced spice flavor that is great on its own and in holiday cocktails
Our Besamim Liqueur is an all natural spirit made from pure cane sugar spirits, hand ground spices, and mountain spring water. We never use industrial alcohol, corn syrup or any artificial sweetners or additives. Besamim is excellent straight, over ice or as a base in cocktails. Check out our Cocktail Recipe page for some great drink ideas.