Sukkah Hill manufactures Premium, Artisanal liqueurs. Our liqueurs are made from all natural, premium ingredients. Our spirits are gluten free, with no preservatives, additives, stabilizers, artificial colors or artificial flavors. We don't use high fructose corn syrup, invert sugar or any petro-chemical derived ingredients. We just use the purest natural ingredients to hand craft the kind of delicious spirit we love serving to our friends. We invite you to share them with us.
Our liqueurs are certified Kosher, and Kosher for Passover under the supervision of the Star K.
Sukkah Hill Etrog Liqueur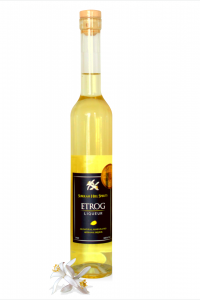 Etrog is a lightly sweet citrus liqueur featuring the aroma of citrus blossoms. An Etrog is an ancient heirloom citrus fruit grown in only a handful of orchards worldwide. Bottled at 76 proof, Etrog is excellent chilled, over ice or as a base for bright strong cocktails.
"extravagantly scented with citrus blossoms, lovely to sip after dinner" Los Angeles Times
"Aromas of lemon verbena, lime leaf, melon, and Meyer lemon candy with a moderately sweet medium body and a pink pepper, honey, herb, and floral lemon blossom like snap on the prickly, warming finish. An exotic citrus liqueur with an interesting aquavit-like herb and spice dimension. Will be brilliant in cocktails" Beverage Testing Institute
Sukkah Hill Besamim Liqueur

Besamim is an aromatic spice liqueur with notes of vanilla, clove and cinnamon.   Bottled at 74 proof, Besamim is wonderful neat, on the rocks or as a base in mixed cocktails.
"Sukkah Hill Spirits capture the spirit of Home and the Holidays. [They are] "What to sip" New York Times
"Vibrant aromas and flavors of cinnamon, nutmeg, and clove with a silky, moderately sweet medium body and a gently warming frosted carrot cake and candied spiced nut finish. Elegant, natural and balanced spice flavor that is great on its own and in holiday cocktails." Beverage Testing Institute